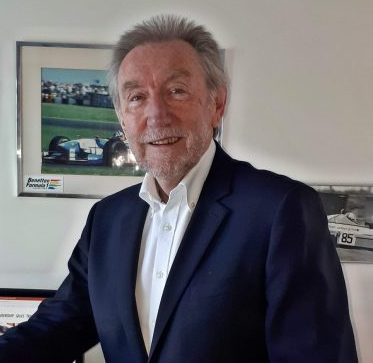 07 Apr

One Certainty In A World Of Uncertainty

In the live events business, we are navigating our way through the profound changes brought about whilst we adapt to working with the current coronavirus situation. Motivational speaker, former formula one executive and best-selling business author, Brian Sims, has some clear and concise thoughts about truly valuing the role of sales in every business.  This applies both now and as we build for a strong recovery.  As well as being a highly accomplished inspirational speaker, Brian can currently offer a range of on line support.

Throughout his career in F1 and international motorsport, Brian secured multi-million pound sponsorship deals with companies such as Fedex, Gillette and Marconi. He also founded the prestigious Motorsport Industry Association (MIA), gaining Government recognition of this world leading UK industry sector, in its own right.  This year is the 25th Anniversary of The MIA. It has proved to be one of the most influential organisations within the global motorsport industry.
Feedback
"Thanks so much for a truly inspiring and entertaining presentation. You are clearly very modest about all the great things you've achieved" Toni Darton, Gatwick Diamond Business 2020 Conference
Please get in touch with us at The Right Address if you would like to book any motivational webinar speakers or to discuss any opportunities for Brian to help you achieve the best possible outcome: + (0)1895 827 800
BRIAN SIMS – THE ONE CERTAINTY….. IN A WORLD OF UNCERTAINTY
"It's probably been a while since any of us attended a business networking event.  I was thinking about my last speaking engagement, which was one of the most dynamic networking events I've attended.
Background
It's always interesting to see the reaction of people at such events when they ask me what I do. My answer is very simple; I tell them that throughout my business career I've always been a professional salesman.  That normally begs the question "in what line of business?"  What I tell them invariably brings a look of surprise to their faces.
I was a Xerox salesman, prior to moving into international motor racing and building a 45-year career that eventually took me to a high level of success in the fiercely competitive business world of F1.      I then add the fact that I'd been the Marketing Director of two F1 teams, Lola F1 and Benetton F1. Along the way I'd been able to enjoy several years as a professional race driver. I became the manager of an international F1 GP Circuit. Plus I have had my own racing driver school and created a business organisation that supports the £9 billion world-leading UK motorsport industry. To my surprise, I was even awarded an Honorary Doctorate for my achievements within motorsport.
I normally go on and explain to those still interested, that such a career was made possible by just one primary skill, which I was so fortunate to learn at Xerox. It was the skill of professional selling. This is what allowed me to acquire an amazing level of sponsorship throughout my career. It started from my very first ever race as a driver. Through to setting up my own racing school, to forming the Motorsport Industry Association. Then on to personally acquiring the multi-million pound sponsorship deals that brought companies such as FedEx, Marconi and Gillette into F1 for the very first time.
So, whenever I am asked what I do, I am proud to call myself a professional salesman.
The power of sales
I strongly believe that the status of professional sales personnel will increase dramatically when we all eventually return to work because there is one thing that is 100% certain, in a new world full of uncertainty; companies will be dependent upon selling more products or services to start making up for the dramatic financial losses that so many will have faced of late.
Yes, we all want to believe that we will become a more caring society. Yes, the ways in which we do business will continue to change, but without skilled, highly motivated and professional sales personnel the task of making up the lost ground will be tougher than ever.
If you run a business, now is the time to start planning the ways in which you can hone sales skills, develop those written and oral communication skills, create innovative sales strategies and dynamic sales incentive programmes. Look after your salespeople and they will help to bring recovery.
Help at hand
I'd be delighted to help you in the various ways of doing this, whether on-line initially, or with motivational talks, sales training and confidence building sessions once we are all back together again." – Call us to discuss any future events