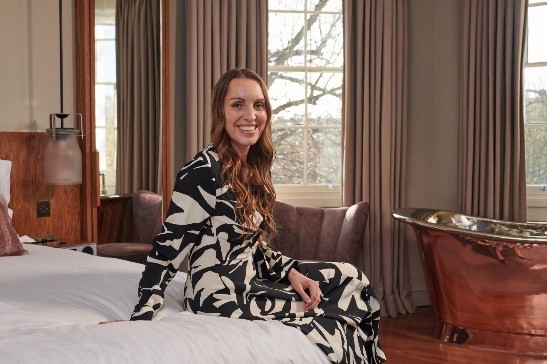 28 Jan

Tamara Lohan MBE speaker

Entrepreneur, technology strategist and motivation speaker Tamara Lohan is an inspiring, energetic leader. She has a track record of developing and building businesses.  Tamara has spent over 15 years leading technology and e-commerce in the travel industry.
Background
Tamara's experience building brands and businesses began in Brazil on the launch team for an energy drink. She then honed her marketing skills on both sides of the client/agency divide, working first with Honda, then at the WPP below-the-line agency Wunderman. In 2002 she left the corporate world to run and modernise the company her mother had founded – a dating agency – and start a new business.
Entrepreneur
Tamara co-founded the boutique hotel travel specialist Mr & Mrs Smith with her husband James. As CTO, she pivoted the business from book publisher to online travel agent.  This meant evolving the company's digital infrastructure and expanding the business into new markets. They opened offices in Australia, the US and Singapore. She has led financing rounds from a variety of sources.  These include the world's first travel bond and one of the fastest, highest raises on the Crowdcube platform to date. Tamara and James were awarded MBEs for services to the British travel industry in 2014.
In April 2020, she became CEO of the company, now an iconic British brand and global organisation with a pre-Covid turnover of more than £100m. As CEO, she has been an active champion of diversity and inclusion within the business.  She has intensified its focus on sustainability and responsible travel.  Consequently, she has proven herself a strong and resilient leader. Tamara is a problem solver who can identify trends and opportunities, make tough decisions and inspire her teams. Alongside her understanding of the mass-affluent and luxury e-commerce customer, she understands how to manage the day-to-day operations of a global business through periods of growth and crisis. Tamara ensures the right tools and people are in place to deliver on strategy.
Her consumer understanding, expertise in bilateral (marketplace-style) businesses and love of ambitious technology have also been put to good use at Not on the High Street.  This is where she serves as a non-exec director. She has helped steer the business through a change of CEO and a major tech disintegration project.  Plus hiring key members of staff, and shaping the growth strategy. NOTHS is a Covid beneficiary, giving Tamara the opportunity to see the business impact of the pandemic from both sides.
Motivational speaker
As the public face of the Mr & Mrs Smith brand and a highly regarded woman in tech, Tamara writes and speaks on a number of themes.  These include disruption, digital innovation, entrepreneurship, leadership, women in technology and business.  She also enjoys mentoring and mentors a start-up called Inkpact.  Tamara is also a founding member of the Witsend network.  The network was set up to mentor and encourage other women in business. She has been featured in publications such as The Financial Times, The Times, The Telegraph , The Guardian and Harpers Bazaar.  Tamara has hosted supper clubs for British Vogue and keynoted at conferences around the world. She has also made TV appearances on This Morning, Sky News and Bloomberg.
If you would like to invite Tamara or other online event presenters to your virtual conferences, please get in touch