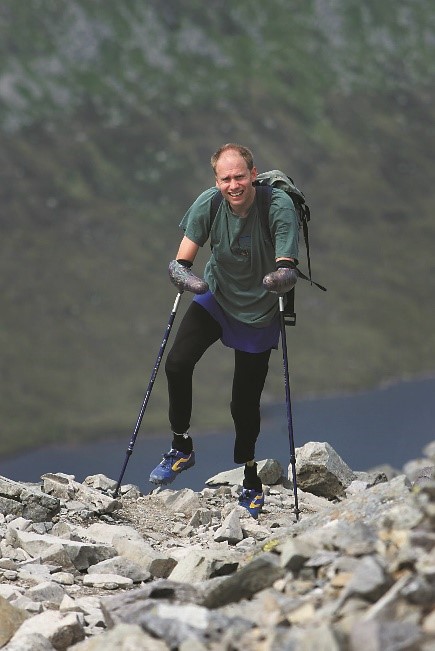 27 May

Special Lockdown Videocast – Jamie Andrew

Mountaineer and motivational speaker, Jamie Andrew, is an inspirational presenter.  His message of resilience, hope, and creating something positive in the face of adversity is particularly relevant during these changing times.

Jamie is a hugely popular inspirational speaker and has presented to audiences in over forty countries worldwide.  As well as delivering fully interactive online presentations, Jamie also offers bespoke, prerecorded videocasts.
Videocasts
Jamie's uplifting videocasts are a fantastic way of delivering a ready-made parcel of inspiration.  These can come directly to the desktops of employees and clients, wherever they may be, for individuals to watch at their leisure.  Advantages of the videocast are that they can be watched at any time.  There is no need to co-ordinate timings; they can be watched again and again.  The videocast is yours to keep; no worries about dodgy internet connections – once downloaded it can be watched without interruption.  It can be tailored to suit.  Jamie will work with clients to ensure the videocast will focus on the key messages most relevant to their needs.
Special offer
While lockdown continues, the fee for one of Jamie's special webcasts may be recouped at any time in the future against the cost of a full presentation from Jamie, in-person or online.
Background
Despite losing his hands and feet in a mountaineering accident, Jamie went on to become the first quadruple amputee mountaineer in the world.  He has climbed The Matterhorn in Switzerland, Kilimanjaro in Africa, and many more mountains around the world.  He was also the first quadruple amputee ever to complete a Marathon and the first to complete an Iron Man Triathlon.
So, as you can imagine he is a man who knows how to make the most out of a difficult situation.  For instance, when faced with being stuck at home during lockdown, he set about climbing the height of Mount Everest on the stairs in his house. As a result he raised over £5000 for NHS charities.
Since losing his hands and feet Jamie has achieved some incredible feats.  His journey has taught him that inside all of us there is great strength and enormous potential.  That strength and potential only needs to be unlocked through finding the right inspiration in life.
Jamie's uplifting story, recounted with honesty and passion, is nothing short of incredible.
Feedback on his presentations includes:
"Thank you for your stimulating and inspirational contribution to the Innovation Day… I've had a great response."  Scottish Enterprise.
"Everyone was inspired by his positive positive approach, his sense of humour, and his courage… Thanks so much for introducing him to us. He really made a difference."  Jane Beseda, Toyota Motor Sales.
"A stark reminder of the power of positive thinking."   Leadership Trust Foundation.