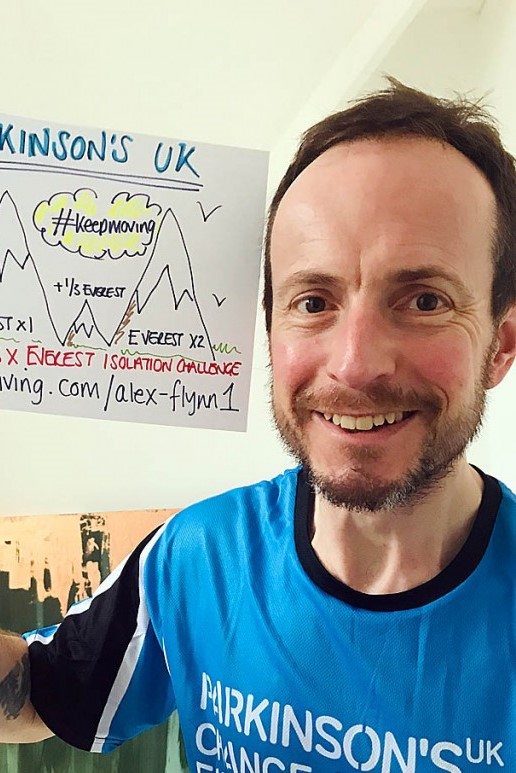 04 May

Outstanding Challenge Completed in Lockdown

Inspirational speaker and adventurer, Alex Flynn, who has Parkinson's disease, has just completed an incredible lockdown  fundraising challenge ascending the equivalent of two Everest summits from sea level to mountain top!  He has climbed and descended his staircase with what equated to 210,600 steps and took seven and half days in twelve hour stints per day.  The double vertical marathon was completed in support of Parkinson's UK and has been hailed by fellow adventurers Sir Ranulph Fiennes and Ben Fogle.  Sir Ranulph has said, "Alex should be congratulated for completing this Herculean charity challenge."

Since contracting Parkinson's Alex created an overall fundraising challenge 10MillionMetres covering this ground by a variety of means.  Working towards this goal he has completed many marathons, ultra endurance races, and triathlons, examples of which include:
The gruelling Marathon des Sables (250 km race across the Sahara Desert);
Running 160 miles across the Bavarian Alps in 52 hours;
1,735 miles from London to Rome to meet the Pope (400 miles of which was run with a stress fractured right tibia and completing 20 marathons in 10 days);
Becoming the first person to traverse the 3,256 miles from Santa Monica to New York using four distinct disciplines. He achieved this distance and 35 days and appeared on BBC One, One show over two consecutive nights.
Alex completed the 10MillionMetres challenge successfully with the Standard Chartered Dubai Marathon but continues with his fundraising.  He is also a dynamic and engaging motivational speaker who is currently delivering his presentations via online presentations and webinars.