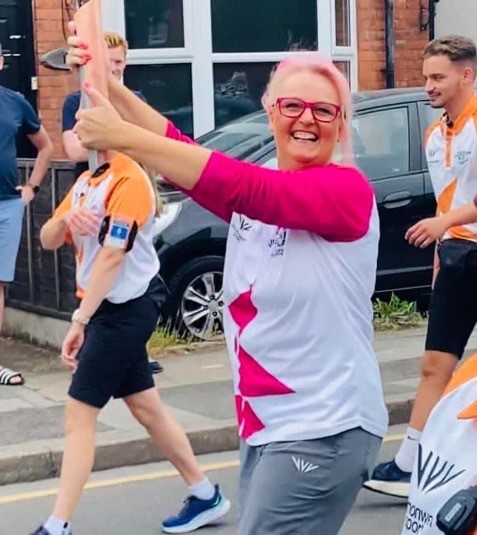 05 Aug

Jules Mitchell chosen as Commonwealth Games batonbearer

One of our motivational speakers, Jules Mitchell has been chosen as a Batonbearer for the Commonwealth Games.

Jules and The Big Happiness Experiment have been featured on ITV's Good Morning Britain, BBC Midlands Today and in The Daily Telegraph. She is an avid writer and her articles have appeared in many UK glossies. These include Psychologies, Top Sante and Woman. Plus she ran her own column in the Birmingham Mail and is a resident expert on BBC radio speaking all over the country about her life's work. In 2019 Jules was invited to join a team of wellness experts on BBC 5Live. Jules has been a consultant for local authorities for many years, running everything from stress management days to talks about wellbeing techniques at events. In 2022 Jules was invited to be a Commonwealth Games baton bearer.

Jules has very successfully combined the fields of Behavioural Science, Positive Psychology, Neuroscience, Mindfulness, Emotional Intelligence and humour to deliver an insightful programme to her corporate and private clients.  This combination delivers many 'light bulb moments' for all!

The Big Happiness Experiment is leading a quiet revolution (OK not that quiet) of consciously connected individuals who are accessing sustainable success on the outside which is built firmly on the foundation of inner resilience, radical happiness, contentment and peace.
Feedback on her presentations includes
"… fun, interactive and high energy presentation." Spa Life
"I can recommend her [Jules] for her delivery and passion" Marie Curie
"The feedback from delegates was superb with everyone taking away knowledge and inspiration from Jules" Julia Field, Account Manager, Cre8 Sales Solutions
"Having worked with Jules on a campaign for Now TV, I think she has incredible insights into the issue of well- being" Boyd Hilton, TV critic and broadcaster
"When Jules came in it completely changed the dynamic with a positive end to the day.  It gave everyone a really good feeling.  The best thing about it was that it was tangible.  There were things we could take away and use immediately" Will Worsdell, Controller Marketing & Media ITV – Annual Planning Meeting
To book Jules Mitchell as a mental health and wellbeing speaker to cover a wide a range of themes including leadership and resilience, please call The Right Address +44(0)1895 827 800.