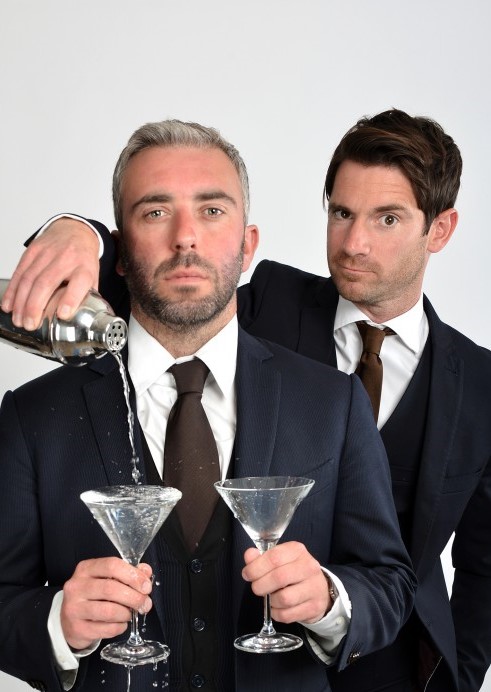 12 Nov

Online festive fun

Recognising that end of year events will be online in the coming weeks, the key aim has to be to enhance your virtual meeting.  So, an excellent solution is a mix of award winning comedy and drinks.  The Thinking Drinkers provide the perfect combination!  They will entertain staff, clients and customers in a self contained show. Described by Dom Joly as, "The most entertaining free drinks event I've ever been to."

The team, Ben McFarland and Tom Sandham, are drinks experts and writers.  They launched their award winning drinks-comedy theatre show at the Edinburgh Fringe.  They have gone on to have West End and national sell out tours

Alongside their theatre work The Thinking Drinkers have always provided popular corporate tasting sessions. The Drinkers have adapted to current restrictions by moving their tasting show online.  They can provide a hosted drinks event via Zoom (or other video platforms).
How does it work?
Simple.  The show runs for 40-60 minutes.  The tastings involve the Drinkers taking you and your staff/guests through a tasting. This involves up to five drinks – generally a beer, three spirits and a non-alcoholic drink. Clients order the drinks as miniatures or cans from online drinks providers (they can recommend providers).  These are then pre-delivered directly to guests.
Why is it different?
This isn't a dry, boring tasting – the Drinkers will host it with their trademark humour and irreverence.  In addition participants will come away with a greater depth of knowledge about all kinds of alcohol.
Personalised entertainment
The Drinkers have a huge amount of material and knowledge that they be tailored for your specific online event.  If your company has a certain links, there may be an opportunity to tailor a tasting to your company.  Previously they have themed a tasting for German and American owned companies.  They have also created a literature theme for a publishing company and drinks on film for a film producer.
There are many of options available to suit the size, sector and budget of any company. We are happy to discuss individual requirements to make an event, which is a perfect and uplifting, to boost staff morale.
Feedback
"For serious and not so serious devotees of legal recreational consumables, the 'Thinking Drinkers Guide' is your bible" – Dan Akyroyd
"Fantastic drinks, with fascinating discussion from funny people" – Three Weeks ★★★★
"This is brilliant. I love this show." – The Skinny ★★★★
Background
Two of the UK's leading and most respected experts on all aspects of alcohol. Ben McFarland and Tom Sandham co-wrote the award-winning Good Beer Guide West Coast USA.  As leading drinks journalists, they contribute to a wide range of magazines and have written for The Guardian, The Times, The Daily Telegraph, Independent and The Spectator. They both regularly appear on television and radio as leading drinks experts and have guested on Sunday Brunch (Channel 4), Simon Mayo (BBC Radio 2), Jamie Oliver's Drinks Tube and a variety of regional BBC radio shows.
Ben McFarland is the triple-crowned "British Beer Writer of The Year" – the first as the youngest ever recipient. He is the author of the award-winning World's Best Beers: 1000 Unmissable Brews from Portland to Prague and the recently published Boutique Beer: 500 of the World's Finest Craft Brews.
Tom Sandham was the editor of leading industry spirits and cocktail magazine CLASS and launched the World's 50 Best Bars and House Tonic for the Soho House Group. He is the author of the Gourmand award-winning book World's Best Cocktails and is a two-time winner of the WSA Drinkers Communicator of The Year Award.
Their latest book, The Thinking Drinkers Almanac, will be published in 2021 and their new live show The Thinking Drinkers Pub Quiz will follow on tour.