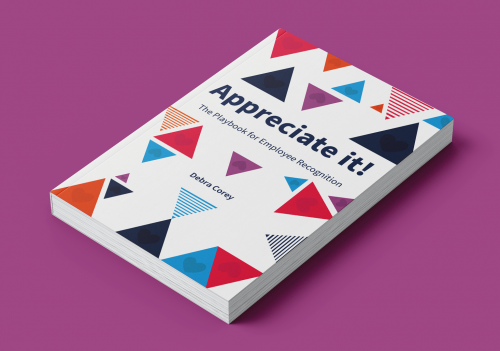 24 Mar

New Publication – Appreciate It! The Playbook for Employee Recognition

International HR leader and inspirational speaker, Debra Corey, has a new publication, Appreciate It! The Playbook for Employee Recognition.  Below she has shared some thoughts on it, that seem particularly pertinent right now.

"Over the years, employee recognition has moved from a 'nice to have' to a 'have to have.' So that 87% of organisations now have some form of recognition programme. This is because they've seen or heard of its power.  Studies are showing the positive impact it can have on revenue (two times higher revenue with recognition). Plus employee engagement (14% higher engagement with recognition) and employee burnout (43% lower burnout with recognition) to name a few.

It's also because their people are saying that they want to be recognised. Over 90% are saying that recognition is important to them.  37% saying that it's more important to them than pay, training or getting a promotion. Plus when asked, 82% of employees have said that recognition is a leading factor in helping them improve their performance.  In addition 79% have said that being recognised would make them work harder.

However, with 65% of employees saying they don't feel appreciated and 87% saying their company's recognition programme is "stale, outdated, or used as disguised compensation," clearly something's not working."
New publication
Debra's new book, Appreciate it! The Playbook for Employee Recognition, is a call to action.  It is a call for change for anyone who is interested in creating a culture of appreciation through their employee recognition strategies and programmes. Particularly one that doesn't focus on the fancy trophy, expensive gifts or money, but on a feeling.
A feeling where every employee feels appreciated, not just a few. Where recognition occurs for all of the small things that matter and make a difference, and not just the big ones. Where recognition happens continuously, and not just every year or every five years. Plus where your people feel valued and appreciated through genuine, meaningful and inclusive recognition.
It is packed with practical tips and inspirational stories from over 50 leading companies.  These include Chelsea Football Club, Heineken, LinkedIn, Zappos and Zoom.  This book will drive change and add the exclamation point to appreciation that's fit for the company's people and the future! Here are just some of these tips Debra shares:
Inclusive approach:
"We need to move to a more inclusive approach to recognition. One where everyone is invited to the party, where we're all treated as individuals. Plus one which drives a sense of belonging through appreciation.For example, at HomeServe they have 11 categories for their Shining Star Awards to give as many employees as possible the opportunity to be recognised. They include ones for each of their company values, plus additional ones such as "HomeServe Hero," "CEO Choice Award," "Community Contributor" and "Career Developer."
Recognise small inputs:
We need to move to recognise the small inputs and contributions that lead and add up to the ultimate outcome, and which keep our people and our work on track and in focus.Another way to look at this is that by only recognising the ultimate outcome, you're recognising the outcome and not the process and steps you've taken to get to the win. It would be like training for a marathon and not acknowledging all of the steps and individual goals you've achieved to get you there. A tip shared with me by Ben Davies, a U.K. Fitness Consultant, is to break it down into "non-scale victories" (NSV). These are those small but important inputs, contributions and achievements. For example, that first run, the run you do on a rainy day so that you hit your mile goal for the week, and so on. "If you don't acknowledge and celebrate these NSVs you lose motivation, focus, and often, give up on the goal entirely," says Davies.
Remove winner v loser mentality:
We need to remove the "winner versus loser" mentality that is ingrained into so many recognition programmes, using recognition as a motivator and not as a demotivator.For example, at Chelsea Football Club they have a quarterly 'Pride of Chelsea' award. There is no set number of winners, something common in many recognition programmes, being flexible based on the achievements which have been put forward. `We didn't want to force fit it, as this just doesn't work. We wanted to retain flexibility. Where one quarter we might have a number of really great submissions we want to recognise, versus another quarter where there is one stand out winner.'  Sara Matthews, former Director of Human Resources."
Inspirational speaker
Debra was voted one of the top 60 Most Influential Thinkers 2021 by HR Magazine and has been named, two years in a row, in the Top 101 Global Employee Engagement Influencers. In addition, Debra is an outstanding speaker.  She is regularly asked to share stories and tips from the best performing leaders and companies leading the way for genuine employee engagement.  Debra is an ideal choice of speaker for your next event, as we regroup and rebuild in the wake of the challenges of the past few years.  Feedback on her presentations includes:
"Debra was a fantastic presenter, it's not often that you find speakers who can educate, excite, and entertain all at once. Debra did all three in the best possible ways, engaging our audience with strong visual slides and provocative content. Not only did Debra exceed my expectations as an event organizer, the post-event survey showed that she wowed our attendees as one of the top presenters of the night. If you're looking for a great speaker who will inspire and inform your audience, I highly recommend Debra!"  Vadim Liberman – Disrupt HR NYC Organizer
If you need help finding the best motivational speakers in the UK for your corporate events like Debra, then please contact The Right Address