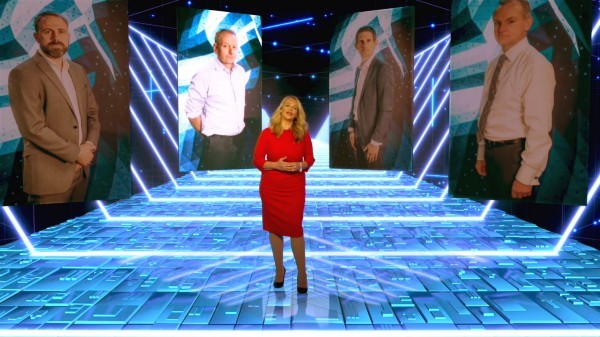 18 Feb

Annie Voller Virtual Events 2021

Popular and experienced TV Presenter and Broadcaster, Annie Voller, of SKY TV, Discovery, SKY News, BBC R5 live & C5 has made an excellent transition to virtual hybrid online events.  She is in much demand for dynamic, high end international, experiential and hybrid conferences and events.  Annie is a professional corporate presenter, host, interviewer, facilitator and key note speaker.

Since COVID hit in 2020, the corporate presenter's role and skills, whether in a professional studio or a complex home and virtual green screen studio set up, has changed from the usual face to face interaction.  This has been replaced by working with the new virtual solutions.  These events must engage the audience in a meaningful, authentic way.  They need to offer a completely different viewing experience to that of a day-to-day video call. This means that a presenter must be more adaptable and adept at using technology and understand the full tool kit of virtual complex and augmented VX, AR, Unreal Reality, and interactive options now available.
No More Zoom Fatigue, how to create and host a live virtual event experience on Steroids…
Recent large scale, studio based, virtual shows, have seen Annie completely raise the bar, in live virtual and face to face presenting. These include Annie hosting a live, fully interactive, multi audience, hybrid event for M-is and their client BAE Systems and Team Tempest. Other projects in the financial and oil and gas sectors saw Annie acting as host and featuring as the lead British female voice over on a series of productions for Deloitte and Shell.
Glass Floors, Hollywood Block Busters and working with Augmented Reality for virtual events
Thankfully the glass stages, comprising of glass sheets placed on regular LED products which were in many studios sets at the beginning of the pandemic, have now been replaced with purpose-built LED floor products.  These are now far safer, more secure and comfortable to stand on, and essential for any XR production. However, the biggest game changer in virtual events and production has come from the Computer Gaming World and the Unreal platform.  This is an area close to Annie's heart, as she has hosted large scale events for Riot Games, the prestigious Games Ireland and many AI technology events.
With the formats of the gaming world and Hollywood blockbusters coming together (just like in The Star Wars blockbuster The Mandalorian), a presenter faces the challenge of interacting with many Augmented Reality elements.  Examples of this include working with a full-sized submarine, space ships or even an imagined world from another universe.
The presenter's role in enhancing technology
So how, as a presenter, do you make this Augmented Reality interaction look natural? How do you know exactly where you are in relation to the object? In addition, how do you improve the overall experience for everybody? Well this can be achieved in two ways.  Firstly by building the AR object into the back plane of the content – so that as the presenter you can see it on the LED screen you are on stood on, or in front of.  Alternatively, an object can be added to the front plane which gives the presenter a broadcast view on a comfort monitor which can be placed under each camera. Therefore, with either of these two methods, you can walk behind and in front of an object.
But as lockdown measures are still at their most stringent, whether you are working on a large Augmented Reality set, webcast or from a home studio, most companies need a solution.  An experienced presenter can help enormously, allowing the event or show to go ahead without leaving home.
Remote professional set up for online virtual hybrid events
In Annie's home studio she has used her own home filming kit, Green Screen and existing Webcams. From simple Green Screen and Webcast presenting for a select audience, to Team Calls with live feeds.  She has the technology to handle unlimited audience sizes.  It is the rapport and experience from a professional presenter that is essential to drive any event and create a dynamic live virtual environment.
New opportunities
The world of virtual events clearly has its limitations in that people still do, and will always, take value and pleasure from face-to-face interaction.  However, there are now opportunities for companies to host virtual hybrid events that simply wouldn't have been possible before.  This is due to the sheer number of attendees, risks and logistical implications.
Feedback includes:
" Annie worked with the team at M-is, to front and host a fantastic ,first of it's kind, high profile Hybrid event, to support their clients BAE Systems and Team Tempest."
"Annie was our event presenter and host at The International Gaming Awards, the 'Oscar's ' ceremony for the International Gaming World. She brought glamour and professionalism to this event. She quickly grasped and worked with us on the special interviews we did with the nominees and industry experts. We would definitely recommend Annie." Head of International Gaming Awards and Clever Duck Media
Call us to discuss how Annie Voller can help ensure your next online is a huge success event +44 (0)1895 827 800